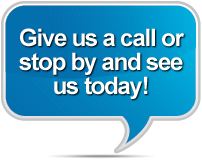 Notice of Your Financial Privacy Rights
Yantis Federal Credit Union recognizes the importance you place on your privacy and the confidentiality of your financial information.
Yantis Federal Credit Union, has always valued its customers' privacy highly. We have protected your confidential information in many way over the years, and will continue to do so using state-of-the-art measures. We never lose sight of the fact that our customers' trust is our most treasured asset. You can rest easy knowing that our corporate focus is the protection of your privacy in your dealings with us. If you have any questions about the confidentiality of your information in our hands, please feel free to call. We appreciate your business.
Information That We Collect
We do, however, collect nonpublic personal information about you from the following sources:
Information we receive from you on applications or other forms,
Information about your transactions with us,
Information that we receive in response to requests we make to third parties about you or to confirm information that you provided to us, particularly in the process of evaluating applications for loans,
Information we receive from a consumer-reporting agency.
The Yantis FCU app collects data regarding your login ID, email address, and your device ID. This data is collected for account management purposes only.
Information We Disclose About You
We do not disclose and do not reserve the right to disclose nonpublic personal information about customers or former customers to affiliates or non-affiliated third parties except as permitted by law. Yantis Federal Credit Union works with a variety of third parties to bring you financial services. We disclose information about you as necessary to fulfill these third party service agreements. For example, we may disclose information about you to third parties that assist us in servicing or maintaining your loan or deposit account, or other business relationship, such as share account life or loan protection (life and disability insurance). We may also disclose information about you to governmental entities, such as sending annual income statements to the IRS, and to other third parties, such as credit bureaus, or in response to subpoenas.
The Confidentiality, Security and Integrity of Your Nonpublic Personal Information
We restrict access to non-public personal information about you to those employees who need to know that information to provide products or services to you.
Yantis Federal Credit Union
P.O. Box 267
Yantis, Texas 75497